secluded, sylvan & extensive
The grounds at Sylvan Ridge Farm are second to none in the area, whether as an event venue or a vacation rental. Right outside the farmhouse doors lie the wraparound porch, butterfly garden, lush lawns, in-ground pool, hot tub, and fire ring, all overlooking the view of the Delaware River Valley and Kittatinny Mountains beyond. Surrounding all this are 193 acres of privately owned Pocono mountainside, protected as conservation land in perpetuity. Guests enjoy exclusive access to this pristine forest, complete with three marked trails of varying difficulty that beckon to hikers, mountain bikers, hunters, birdwatchers, and nature lovers of all kinds.
​
Our landscaping vision was to create a variety of inviting spaces where groups of any size can gather and enjoy their tranquil surroundings. Guests can relax in vintage rocking chairs on the porch and enjoy the view, or sunbathe poolside on the 600-square-foot stone patio below. The butterfly garden around the corner, filled with sweet-smelling blossoms from spring through fall, is the perfect spot to hide away with a good book. Those looking for adventure simply need to choose one of several trailheads and wander off for a hike. In the evening, everyone can reconvene around a roaring bonfire and watch as the stars come out. Not a bad way to spend a day!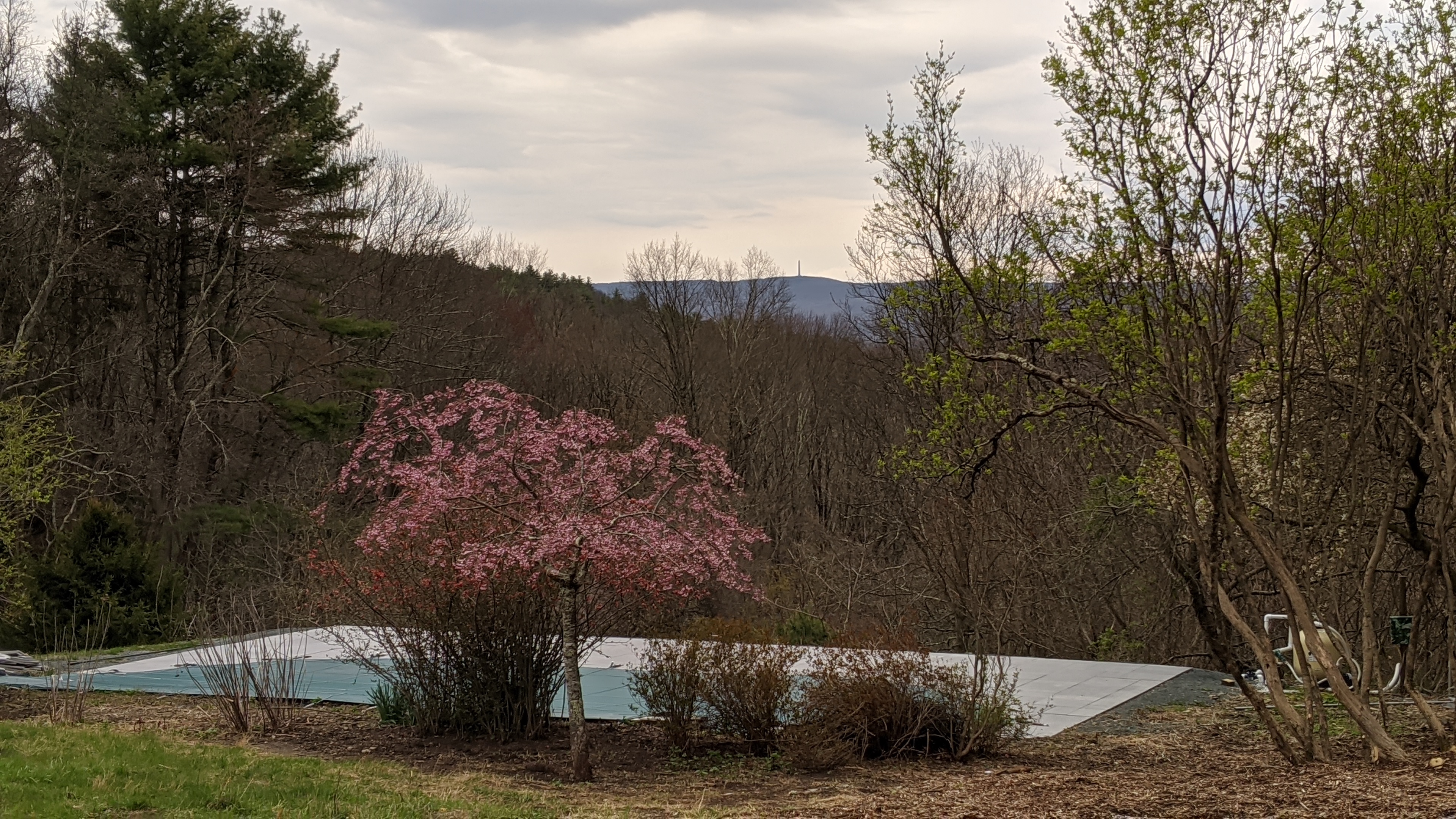 Cherry and magnolia blossoms around the farmhouse & pool signal the arrival of spring.
Snow melt and spring rains turn our creek into a full-fledged stream.
Lean black bears emerge from hibernation and start fattening up on bugs and berries.
The waterfalls in the area are as impressive as any in the northeast, especially in early spring!
Tracks from raccoons, opossums, deer, and other visitors litter the muddy creek banks in early spring.
The trails are never more pleasant than in early fall.
Apple picking at one of the many orchards within a short drive of the farm is a favorite autumn pasttime.
Fall foliage is usually at its best and brightest from late September through mid-October.
As some of the trees start to drop their leaves, the views through the forest really open up, allowing for more wildlife sightings.
The waterfalls generally pick back up in volume a bit from September rain.
Delicious wild blueberries can be found all along the Sylvan Ridge trails through much of July.
The forest is never more lush than it is midsummer!
Late summer rain and humidity make for spectacular mushroom growth of just about every color imaginable.
By July and August, the flow levels of the region's waterfalls are reduced to a gentle trickle.
Late summer is butterfly central around the farm. Monarch caterpillars love the milkweed that grows in the back of the Sylvan Ridge meadow!
Flocks of wild turkeys are a common sighting through the late fall.
Multiple herds of white-tailed deer call our forest home! Bow season starts mid-fall, and rifle season begins after Thanksgiving.
Increased rains through the fall often bring the area's waterfalls raging back.
The last vestiges of fall foliage last into early November.
By December, all the leaves are gone and snows are fairly common.
Spring foliage fully pops by late spring, as seen here in the copse of old growth locust trees near the farmhouse.
Irises are one of many spring flowers that bloom around the property.
As popular public hiking spots start to get busier, the private trails at Sylvan Ridge beckon!
As summer arrives, several Delaware tributaries like this one turn into glorious swimming holes.
Well-known local hikes like the Cliff Trail (pictured) are best attempted on weekdays to avoid summer crowds.